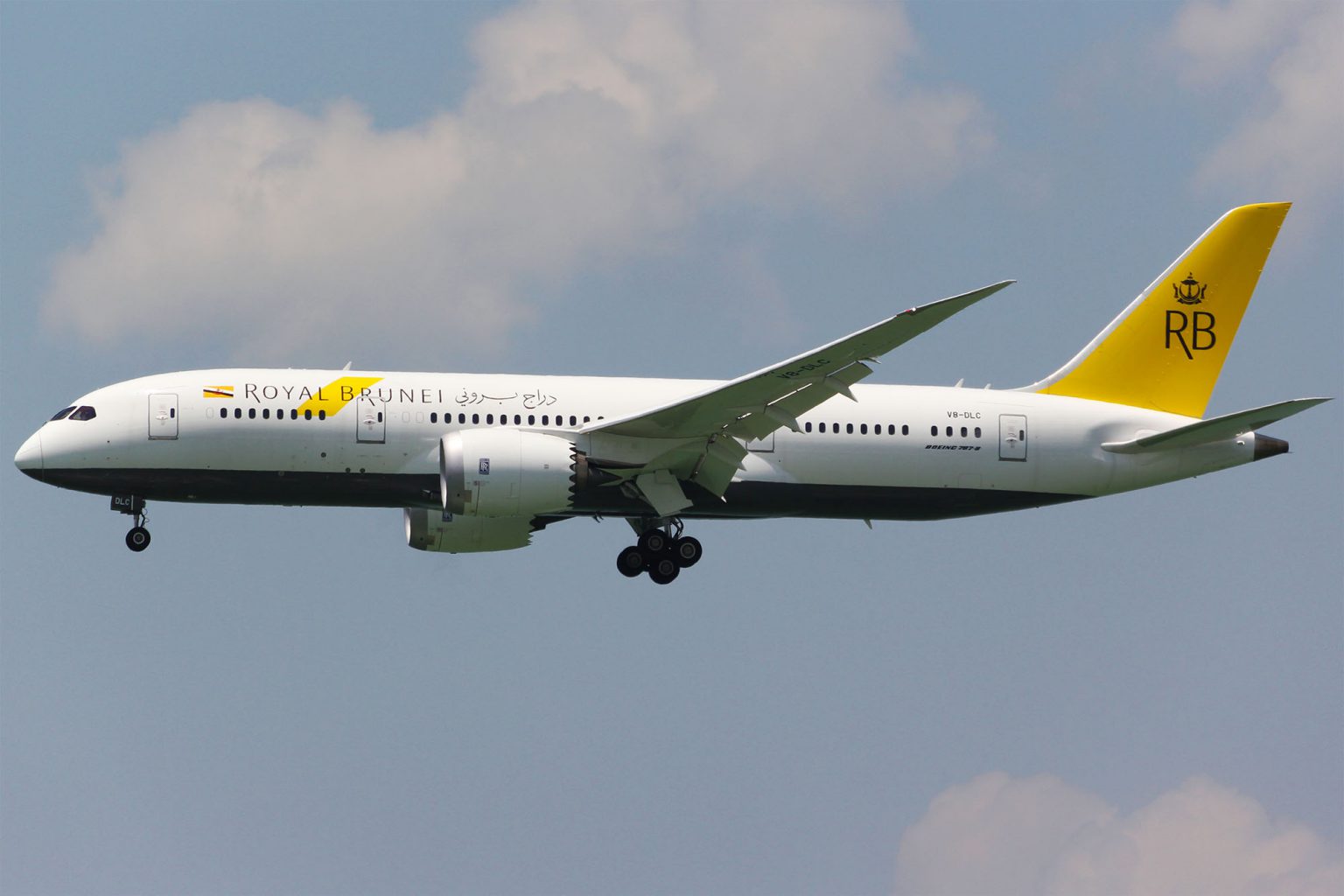 Royal Brunei Airlines, the country's flag carrier, was established on 18 November 1974 as an independent corporation wholly owned by the government of Brunei Darussalam.
The airline's chairman is Pehin Orang Kaya Pekerma Dewa Dato Seri Setia Lim Jock Seng, Minister of Foreign Affairs Two at the Brunei Ministry of Foreign Affairs. The Acting Chief Executive Officer is Pengiran Haji Alihashim Pengiran Haji Yussof while other Brunei citizens hold the senior management posts within the departments of Aircraft Operations, Commercial, Corporate Services, Finance & MIS and Engineering.
Growth Through the Decades
1970s
In Royal Brunei's first year, services were started to Singapore, Hong Kong, Kota Kinabalu and Kuching in Malaysia. The route plan extended over the years and flights to Manila (1976) and Bangkok (1977) became available.
1980s
Following the purchase of a third B737-200QC Combi in 1980, the airline's network expanded to include Kuala Lumpur (1981), Darwin (1983) and Jakarta (1984).
In 1986 following the acquisition of three new extended-range B757-200 aircraft, Taipei was added. Later, services were started to Dubai (1988).
1990s
Growth continued through the 1990s. In June 1990, Royal Brunei took delivery of its first B767-300ER aircraft, enabling it to fly to London Gatwick (1990). However, the following year, on 7 May, it changed its services to fly twice weekly to London Heathrow instead.
1991 saw Perth and Jeddah added to its destinations list, while Brisbane came online in 1994.
On December 1, 1996, Royal Brunei began daily flights to London Heathrow. Twice-weekly services to Surabaya were launched a year later in 1997.
2000s
In October 2003 Auckland was introduced to the network as an extension of the Brunei-Brisbane flights.
May 2006 witnessed the inauguration of the three times weekly flights to Ho Chi Minh City, formerly known as Saigon.

Moving Ahead
Soon after the beginning of the millennium, Royal Brunei's board and management unveiled a bold and aggressive strategy to develop the airline's status as a world-class player.
The plan was to make the organisation well structured and dynamic. At the same time the airline would invest in a re-fleeting programme that would include both the acquisition of new aircrafts and the upgrading of its current equipment with the latest state-of-the-art technology.
The core objective was to raise the levels of comfort and safety, two factors that are paramount to passengers.
New Fleet
The delivery of two new Airbus A319 aircraft (August and September 2003) marked the beginning of Royal Brunei's re-fleeting programme. Two more Airbus A320s were delivered in December 2003 and January 2004.
Royal Brunei now operates a fleet of six Boeing B767-300s, two Airbus A320s and two Airbus A319s.
Route Network
Royal Brunei provides scheduled services across Asia, the Middle East, Australasia and to the United Kingdom. As an added convenience to its passengers, the airline has code-share agreements with Thai Airways International, Malaysia Airlines, British Midland, Philippine Airlines and Dragon Air of Hong Kong, allowing passengers to co-ordinate flights for seamless travel to a wider choice of destinations