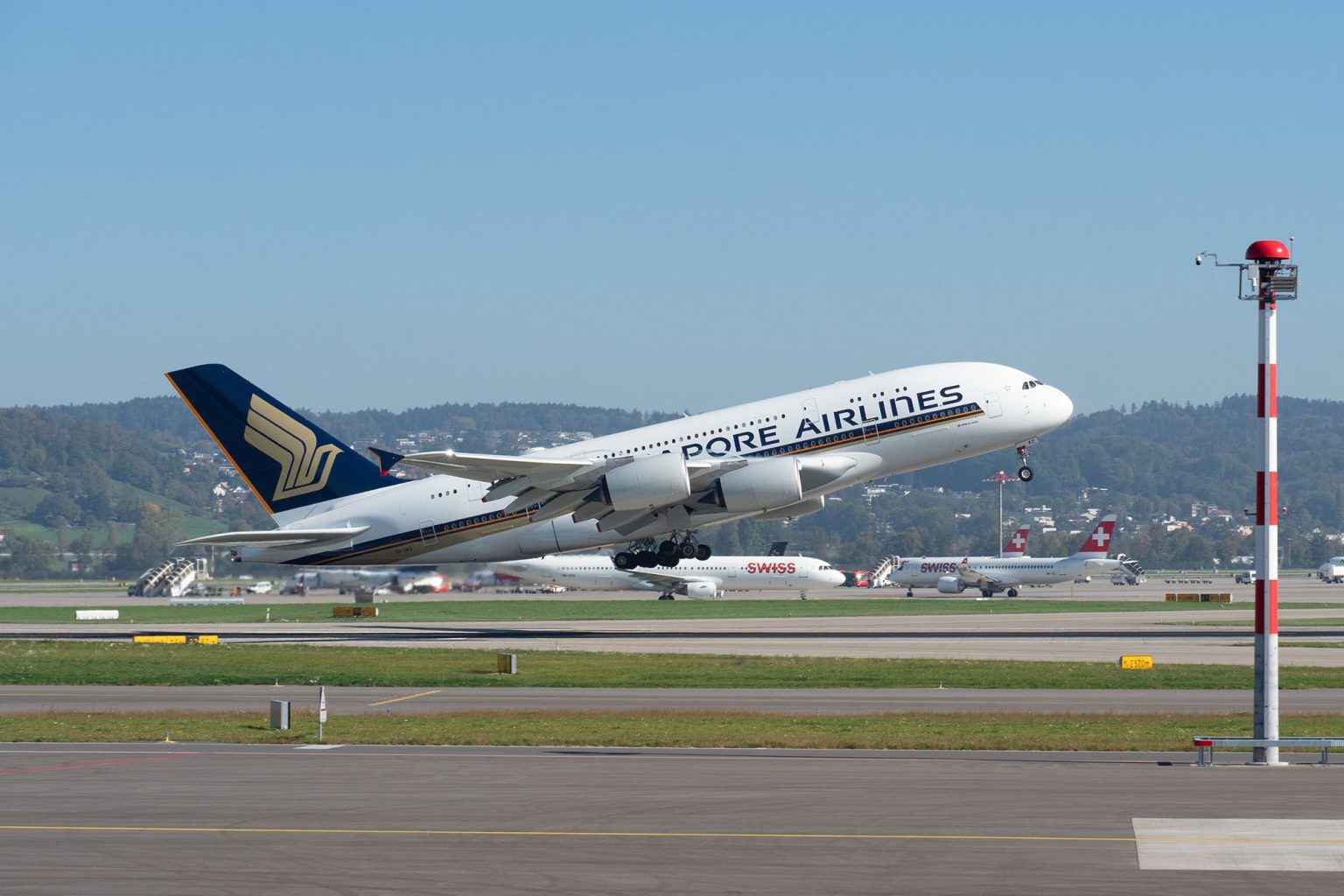 The Creation of Singapore Airlines
From a single plane to an internationally respected brand, more than 60 years of innovation and service has propelled the growth of Singapore Airlines to become one of the world's leading carriers with an advanced fleet. We began with three flights per week, and today our route network spans 103 destinations in 41 countries. Years ago, Singapore Airlines was the first to offer free drinks and complimentary headsets. More recently, we pioneered inflight telecommunications services and unparalleled inflight luxury. In 2007, Singapore Airlines celebrated its 60th Anniversary and we are the first to put the world's largest plane into service.
From First Flight to Soaring Height
The history of Singapore Airlines dates back to 1 May 1947, when a Malayan Airways Limited Airspeed Consul took off from Singapore's Kallang Airport on the first of three scheduled flights a week to Kuala Lumpur, Ipoh and Penang.
Over the next two decades, the Airline steadily acquired more planes. There were additions of the DC-4 Skymaster, Vickers Viscount, Lockheed Super Constellation, Bristol Brittania, Comet IV, and the Fokker F27.

On 16 September 1963, the Federation of Malaysia was born and the Airline became known as Malaysian Airways Limted. In May 1966, it became Malaysia-Singapore Airlines.
Later, the new look of the Airline evolved further with its first Boeings – three B707s, then a fleet of B737s.
In 1972, Malaysia-Singapore Airlines split up to become two entities – Singapore Airlines and Malaysian Airline System.
This change was used to launch a new, more modern service approach on the airline. To house a special fleet of B747s, B7272s, and DC-10s, the new Singapore Airlines also boasted a new airfreight terminal and a B747 hangar.
The Singapore Girl is Born
In 1968, the sarong kebaya uniform designed by French couturier Pierre Balmain was introduced and the internationally recognized image of the Singapore Girl debuted.
A Reputation for Inflight Firsts
The 1980s brought a number of firsts. The Singapore Airlines fleet continued to grow, in impressive and historic ways. It had the first A300 Superbus, the B747-300 Big Top, the B757 and the A310-200. We are also the first airline in the world to operate an international commercial flight across the Pacific Ocean with the 747-400 Megatop.
In the 1990s, Singapore Airlines revolutionized inflight communications and entertainment through the KrisFone – the first global sky telephone service – and KrisWorld offerings. At the same time, we sought to further improve our unparalleled fleet, placing a US$10.3-billion order for 22 B747-400s and 30 A340-300s in 1994, a US$12.7-billion order for 77 B777s in 1995, and a US$2.2-billion order for 10 A340-500s in 1998. The company was also first to involve a comprehensive panel of world-renowned chefs, the International Culinary Panel, in developing inflight meals in 1998.
In 2000, the Airline placed 19 A380s on firm order and a US$4 billion order for 20 more B777-200s in 2001. In 2004, Singapore Airlines was the first to operate the world's longest non-stop commercial flight between Singapore and Los Angeles in February on the A340-500, and then surpassing the record (in terms of distance) later that year with the non-stop service to New York (Newark) in June. The A380, the world's largest commercial plane entered service with Singapore Airlines on the 25 October 2007, making it another world's first.
The Highest Service Today
Singapore Airlines today is built solidly on our history, from the designer bone china flatware to the Bulgari cologne for First Class passengers, to our advanced fleet of aircraft and motivated employees.
Today, our inflight service is of the highest order. The Singapore Airlines World Gourmet Cuisine boasts a selection of exclusive and tantalising signature dishes, specially designed by a panel of nine internationally renowned chefs, and a wine list selected by three of the world's most discerning wine consultants.
KrisWorld, Singapore Airlines' award-winning and ever-expanding inflight entertainment system, offers customers a wide range of entertainment options. Customers can choose from a variety of movies, TV programmes, music CDs and channels. There is also an extensive selection of video games and interactive applications including Berlitz Word Traveller, a fully interactive learning programme.
Singapore Airlines became a full member of the global Star Alliance in 2000 and with it came "seamless" worldwide air travel. With the extensive network of partner airlines, connecting flights, frequent flyer points, and baggage clearance are now a breeze.
Singapore Airlines route network reaches out to over 100 destinations in 41 countries.
A Future of Firsts
Singapore Airlines made Aviation history when the Airline became the first to operate the world's largest aircraft, the A380, on the 25 October 2007 between Singapore and Sydney. The A380 also operates to and from London and between Singapore and Tokyo.
In addition, Singapore Airlines introduced its Suites – in a class beyond First, together with cabin improvements in all other classes while still providing excellent service.
The future promises to bring more firsts like these, as Singapore Airlines continually strives to drive quality service through innovation.